After weeks of hustling to get all the jobs 'of a grazing family going on a 3 week holiday' ticked off the list, we were finally packed and ready to board our direct Air Canada flight from Brisbane to Vancouver.
Rob & I anticipated that this would be a trip of a lifetime for our family and it truly was.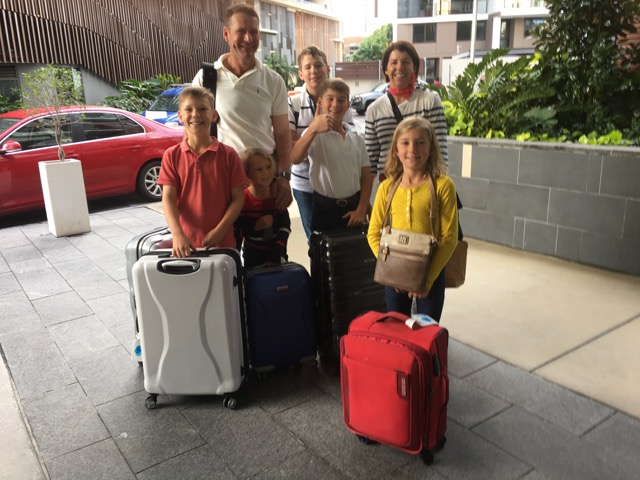 Day 1:
Leaving Brisbane shortly after 10 on Friday morning and arriving in Vancouver shortly after 8 the same morning, did take it's toll on our initial burst of stamina. Kids loved the non stop access to a personal screen with endless movies and games meaning they slept little inflight. After successfully navigating our first train to downtown Vancouver, we were able to drop bags at our hotel and then begin exploring our surrounds.
When planning our trip, I had earmarked a few 'places of significance' at each destination point so we had a fair idea of what to seek out. Granville Markets looked like a lunch worthy spot and so we set off for our first 'walk' …. jet lagged and all!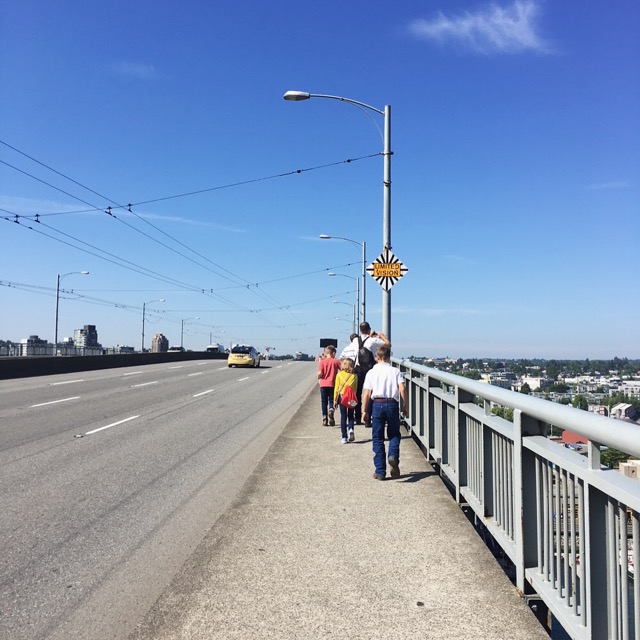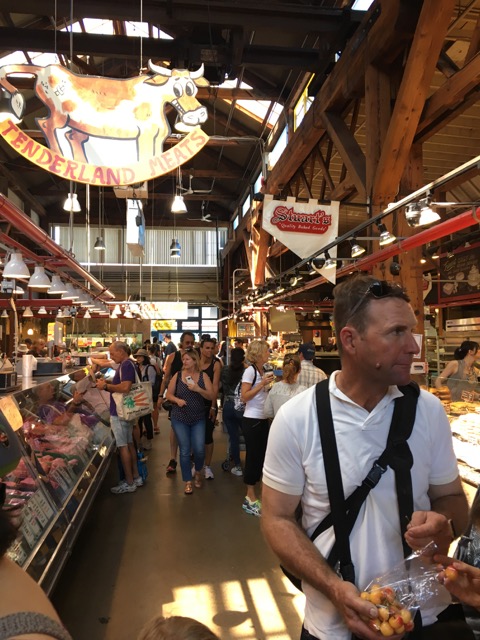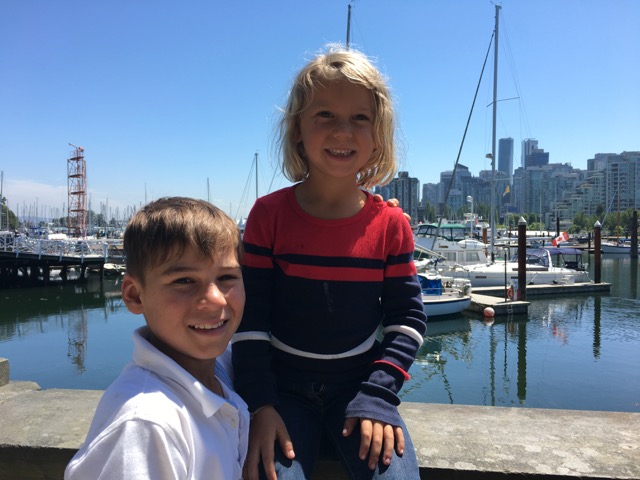 We discovered a more family and weary leg friendly way back from Granville to Stanley Park (think boat & bus) and with now in excess of 24 hours without sleep the lure of shady trees and green lawn was too hard to resist.
While we had planned to hire bikes to cycle around the Stanley Park precinct, weariness led us to indulge in a horse drawn carriage ride instead. The hour long scenic voyage was missed by most of us as we fell sound asleep with the steady beat of the horses' hooves and melodic narration from our driver!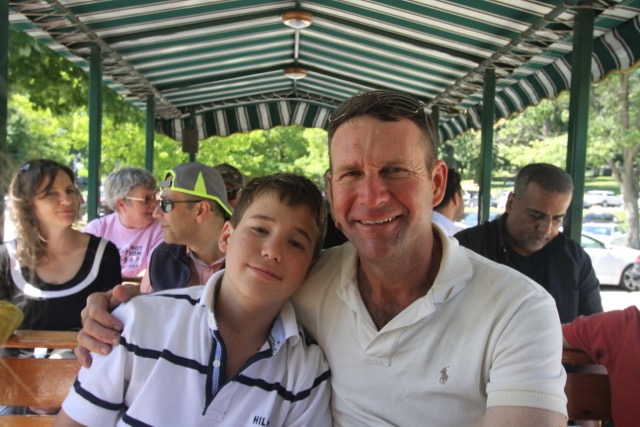 Lachlan did resist the napping and snapped a few "First Nations" Totem Poles for the photo album.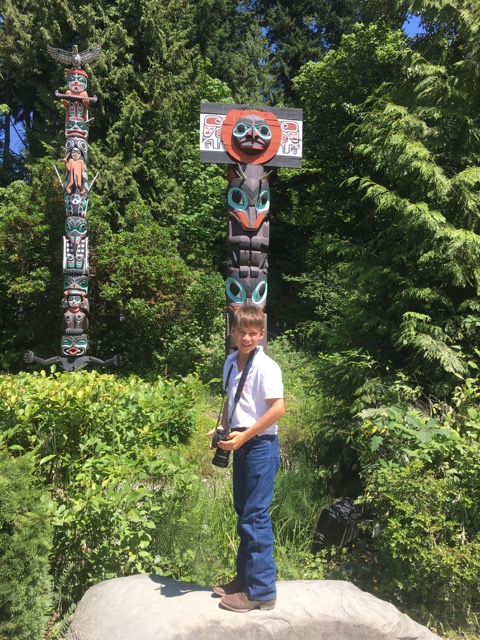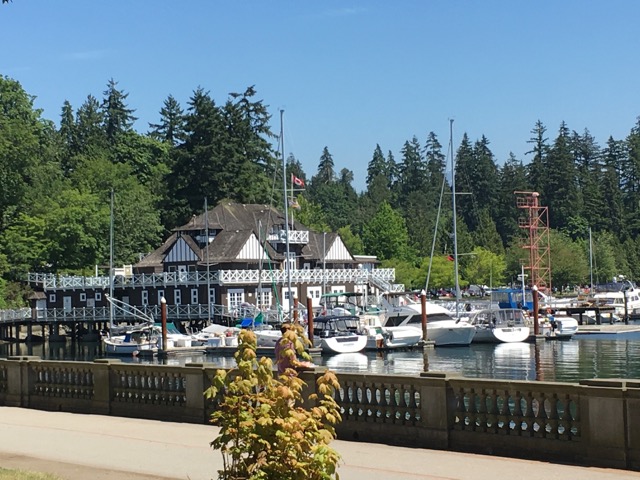 Early dinner and bath and we closed the block out curtains at 7pm, all falling fast asleep. There was one false alarm when both Rob & I awoke at 8.30 – drew the curtains and noted it was broad daylight, quickly started packing the room before puzzling over the clock a little to discover it was not 8.30am but rather 8.30pm, that this was the land of endless daylight and then promptly climbed back into bed. Checking out would have been downright embarrassing!
Day 2:
A promised breakfast of waffles and maple syrup had most of the troops smiling, a good night's sleep had also helped.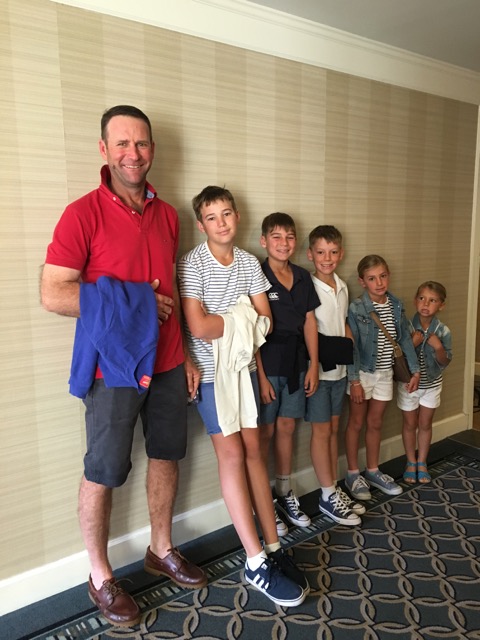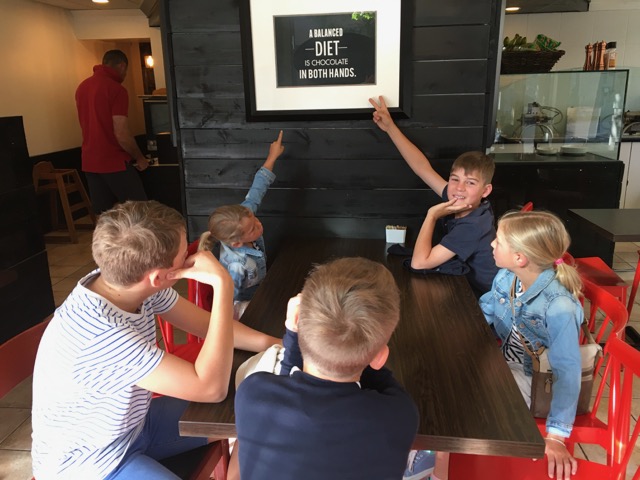 We had implemented our rehearsed luggage system, each taking responsibility for a bag/suitcase. Lachlan also invented a roll call system, with everyone having a number from 1 to 7. Worked a treat and meant nobody was left behind!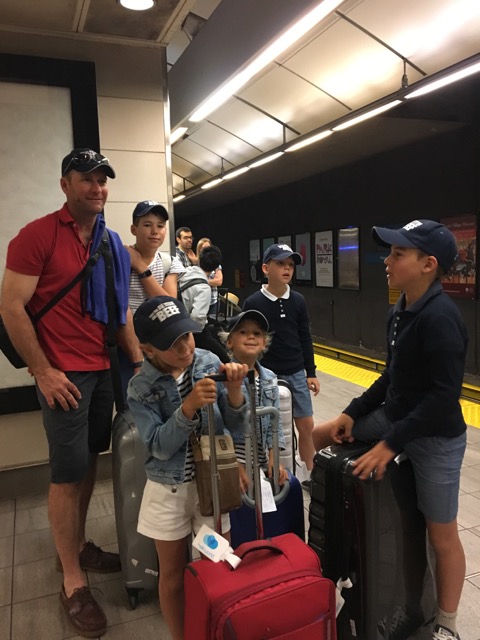 We collected our Chevrolet Suburban car from the airport and hit the freeway bound for Kelowna via Osoyoos and the Okanagan Valley. We whizzed past signs heading to Seattle, snow capped mountains, plenty of barns, irrigated crops and silage choppers busily working  and 6 lanes of traffic all on the 'wrong' side of the road. Traffic was quite heavy as it was Canada Day and the nation was celebrating it's 150th Birthday.  The Maple leaf flag was flying high.
A quick stop in Hope for lunch and we then wound our way through Manning Park before the country opened up slightly to reveal vineyards.
Hamish is renown for his love of fruit so he relished a few stops at roadside orchards. It was the beginning of Cherry Season and they were delicious.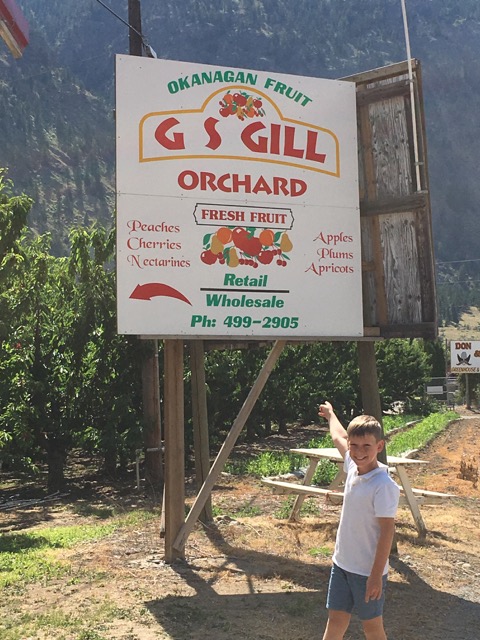 Osoyoos is the southern most town of the Okanagan valley, and is renown for low rainfall, vineyards, orchards and mountains. It was 35 degrees and a public holiday so lakeside (or the beach as locals call it) was extremely popular.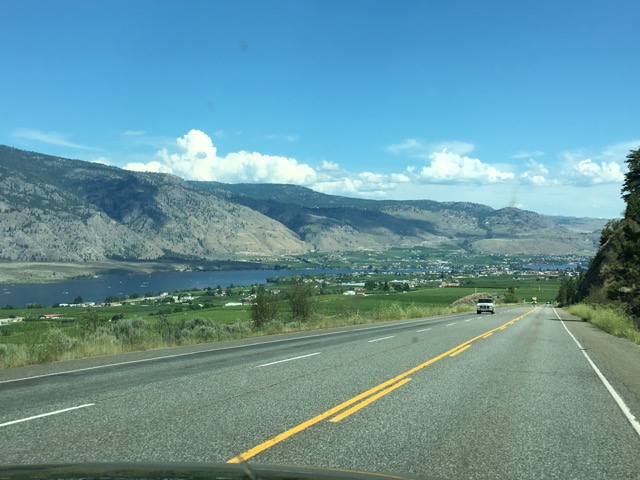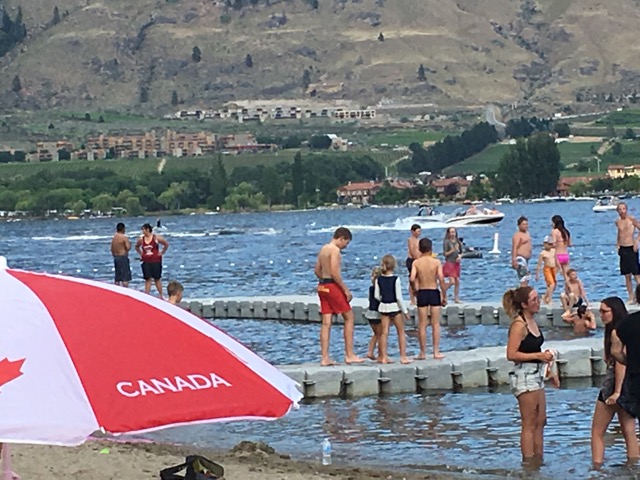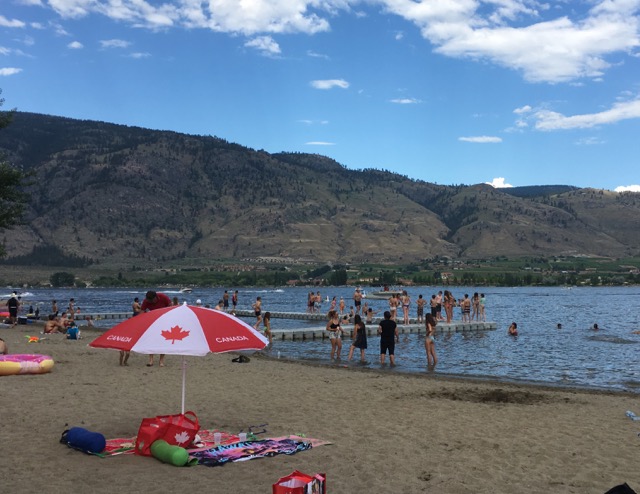 After cooling off at the 'beach', and an obligatory smoothie to keep spirits up, we then journeyed up the Okanagan Valley toward Kelowna. We were amazed at the fresh water lakes that stretched for scores of kilometres.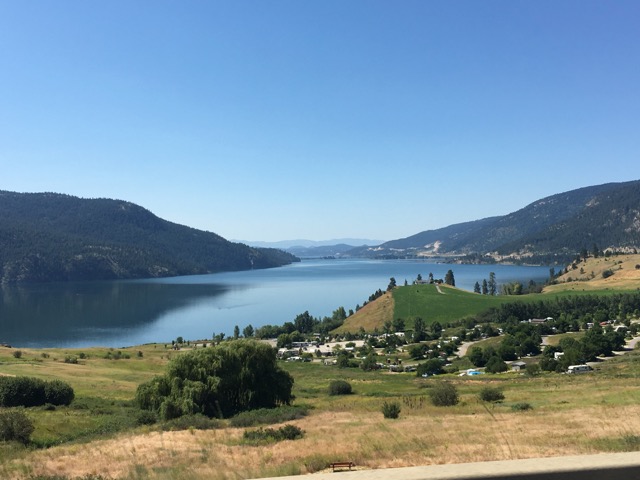 Arrived at our hotel around 9pm (the sun still quite bright), had a quick dinner and all fell fast asleep.
Day 3:
It was always part of the plan to picnic our way along the Vancouver – Calgary Road Trip. One, so that we could eat fresh, real and hopefully local food and two, to keep the food expenditure in check! So before hitting the road on Day 3, we stopped by Walmart to purchase a few utensils and a cooler bag.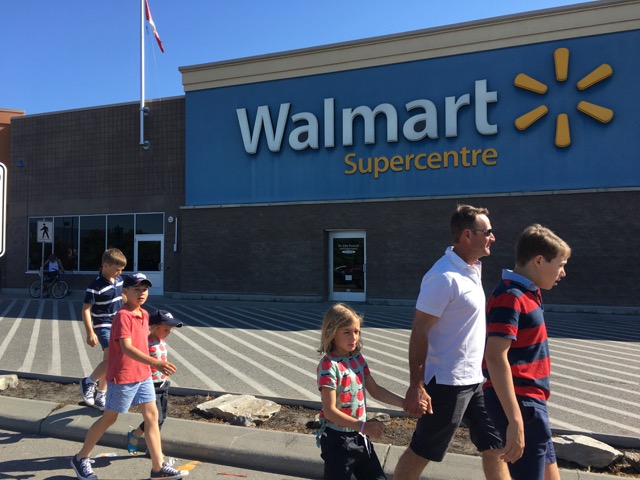 We were able to stock the picnic bag at a roadside stall just out of Kelowna and then followed the picturesque lakes along to Vernon.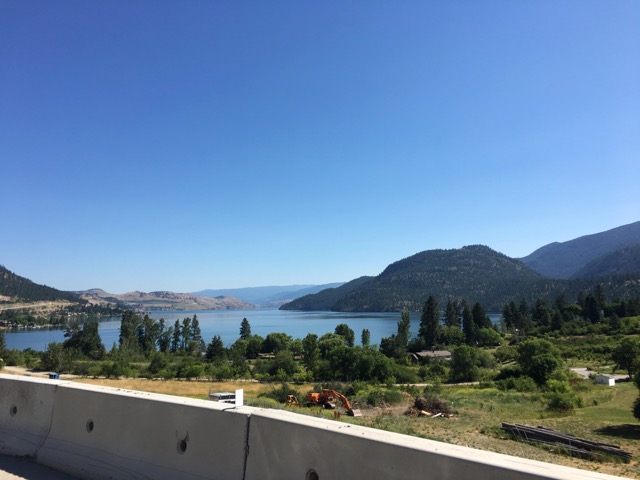 Next stop would be the Enchanted Forest, just out of Revelstoke (after a lakeside picnic!)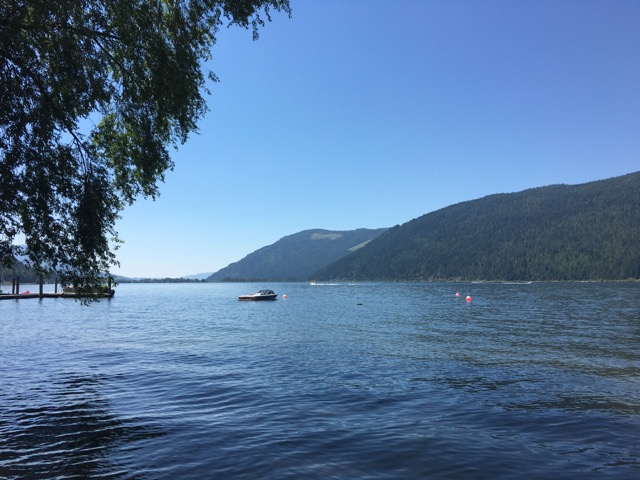 This theme park is nestled amongst a woodland forest and is quite delightful for little imaginations.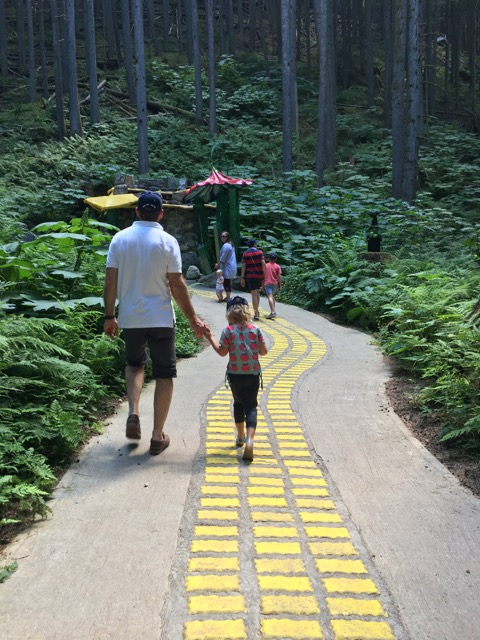 The kids embraced the fairy tales, quickly remembering key characters from the stories and rhymes they've read.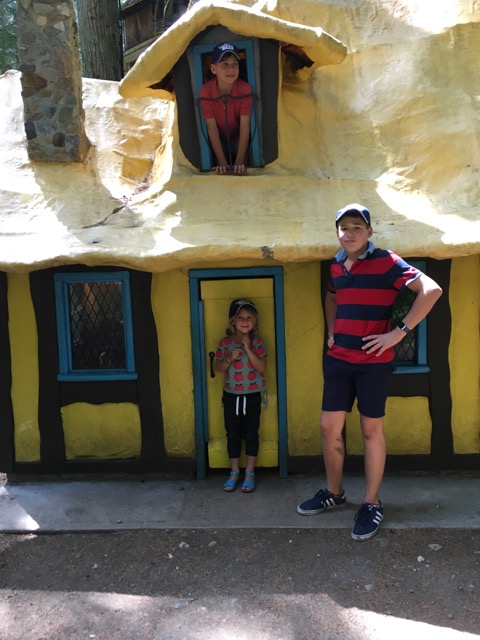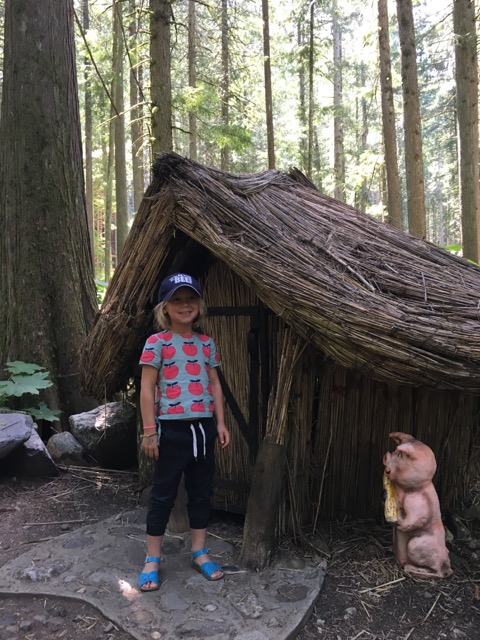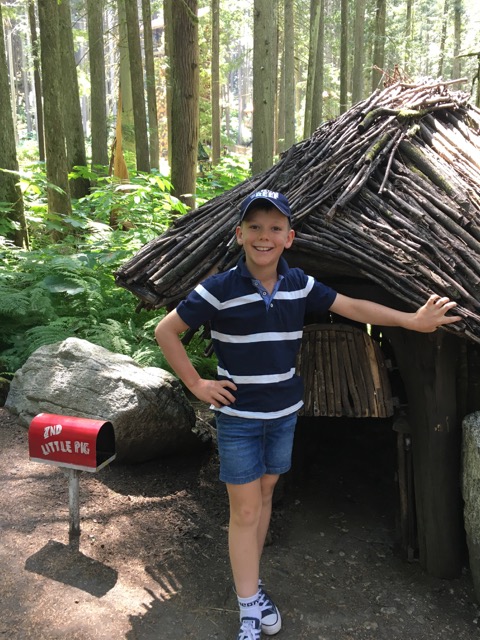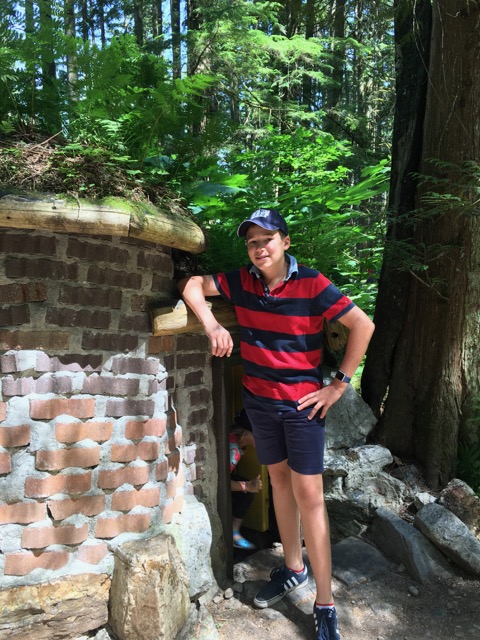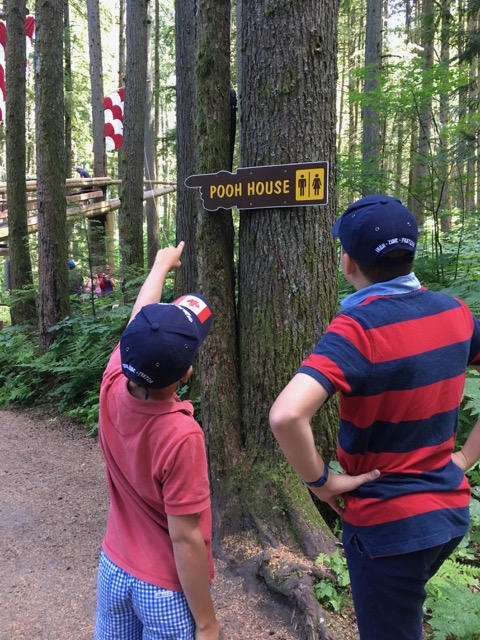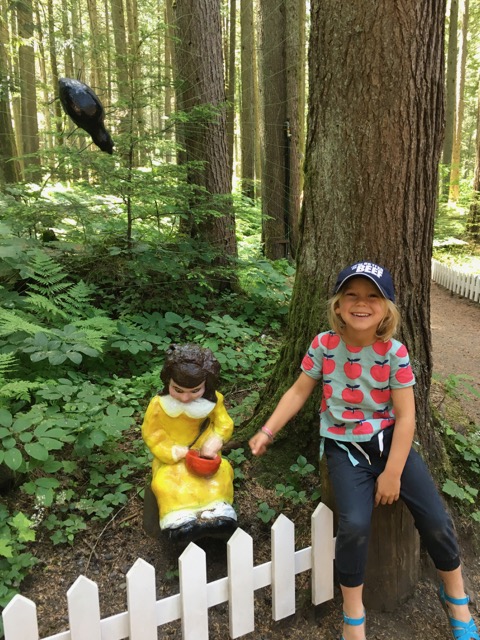 A short trail led us away from the make believe, through a Cedar grove, some Fir and Hemlock trees out to a wetland dammed by Beavers. The boardwalk enabled us to investigate more closely.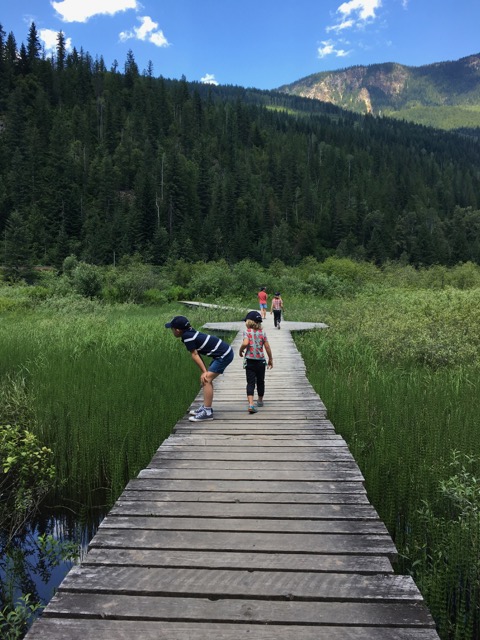 As did a self guided paddle boat.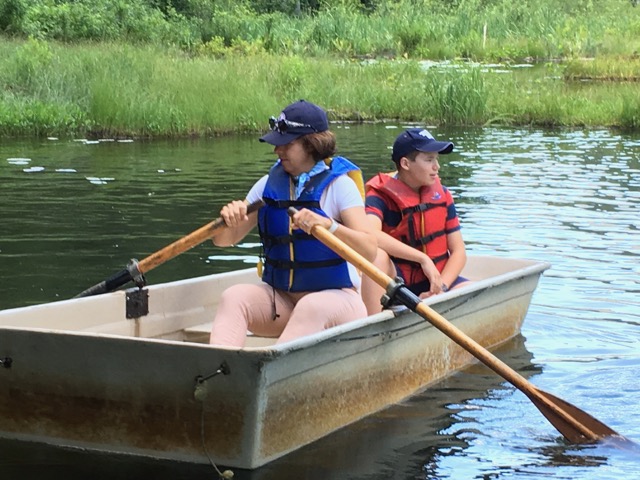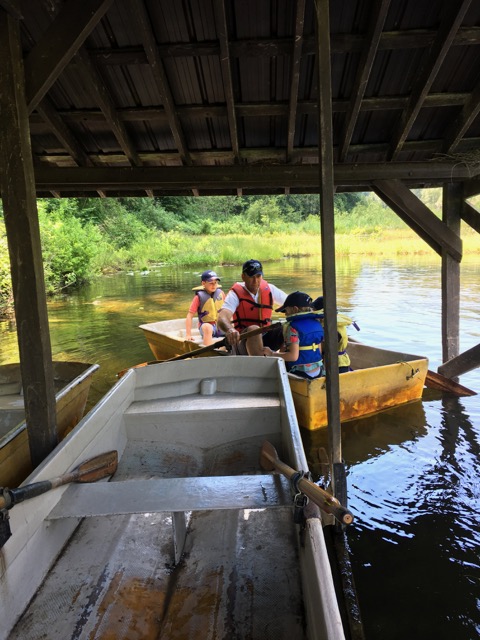 It was then time to travel the short distance to Revelstoke, in the Kootenay Rockies. The mountain resort we overnighted  in was beautiful and we all spoke of returning one winter to ski.
Once we cranked the washing machine into gear in our 3 bedroom apartment, it was then time to explore. A gondola ride took us to the top of a mountain where we could further appreciate our surrounds.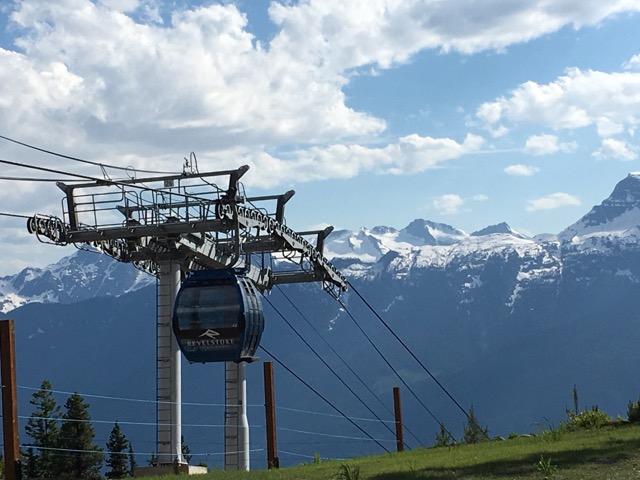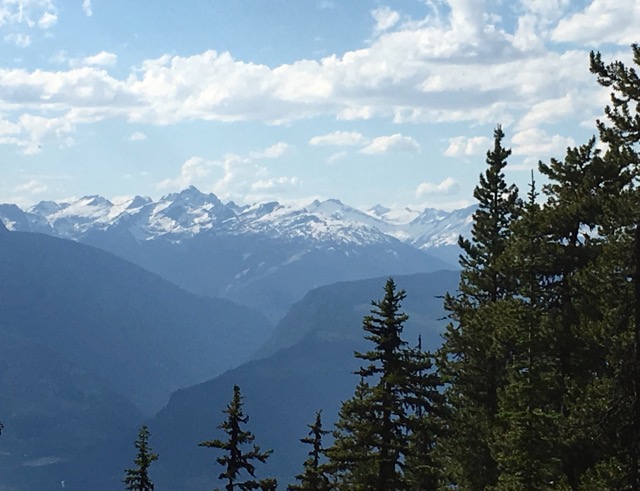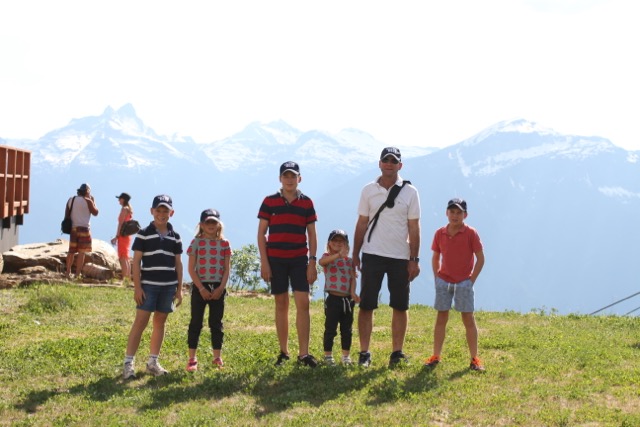 I suggested that we walk back down the mountain to truly appreciate the stunning scenery. Not everyone was as excited about that prospect, but after some negotiating we agreed to hike it rather than ride it.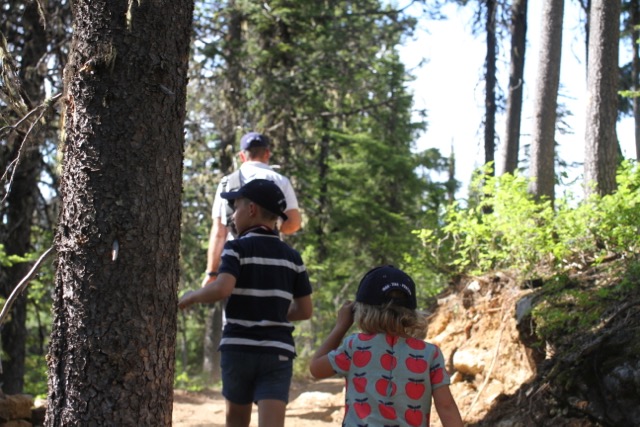 With paths like this, it didn't take long for everyone to smile again. The switchbacks sure were a way to build appetite.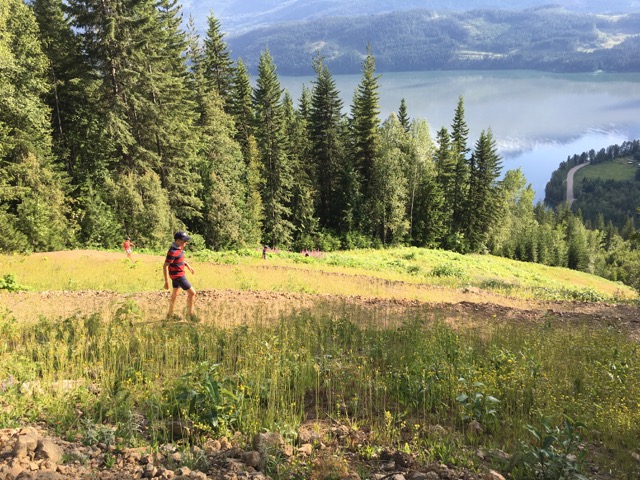 No bear spotted today, but Eliza assured us that we were indeed on a bear hunt.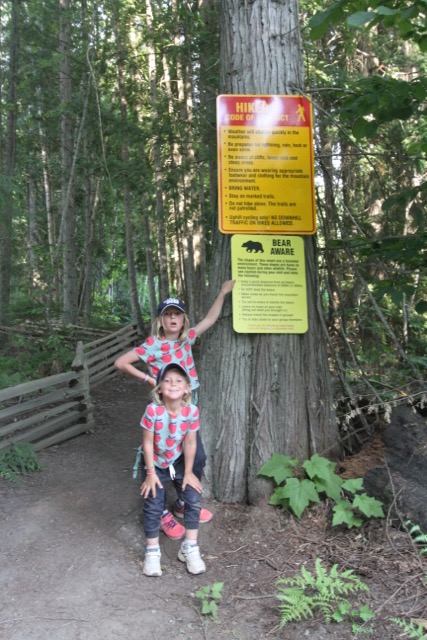 Dinner out and then a late night swim with snow covered mountains as a backdrop meant we all slept well.
The hum of the washing machine and dryer also helped!
Day 4:
I was most excited about this day as we would be travelling toward the Icefields Parkway. Our sleeping habits were a little topsy turvy, with bedtimes very close to midnight and then of course sleep ins. We left Revelstoke just after 9 and decided to get breakfast along the road. Of course, we didn't stop at the first place and then found ourselves quickly out of town and on the Trans Canada Highway to Golden. No fuel or food for the next 150km – that's not far we said …..
A quick stop at the Giant Cedars Boardwalk was a nice way to explore old growth forest with some trees more than 500 years old.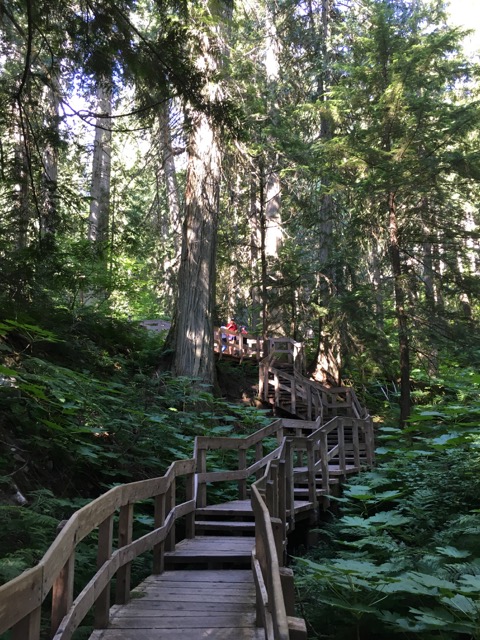 The whole drive along the Trans Canada Highway really was stunning with views of snow capped mountains, waterfalls, streams and glaciers out the window.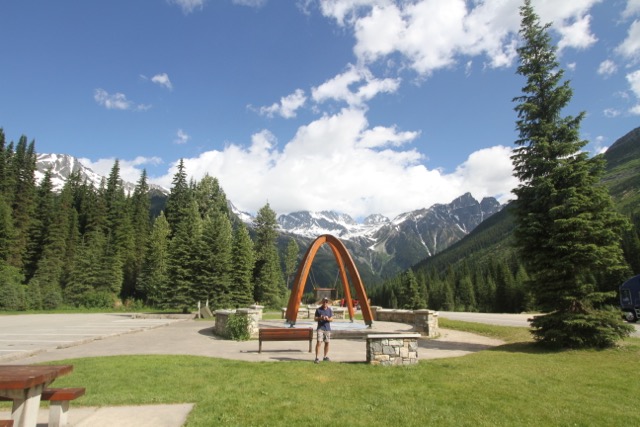 Even the amenities at Roger's Pass were 'cute'.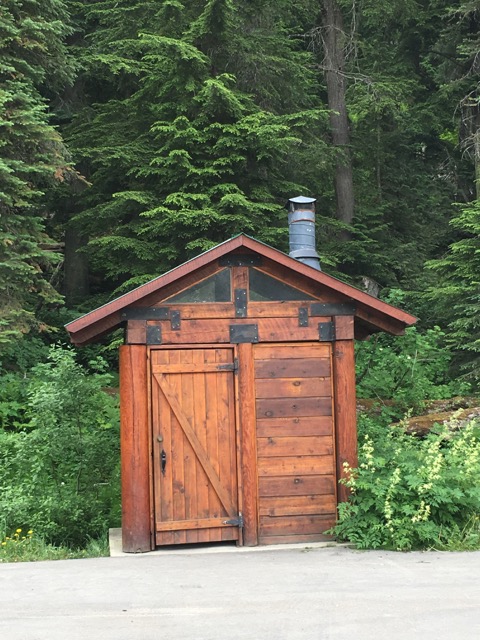 There were quite a few historical sites to stop and explore.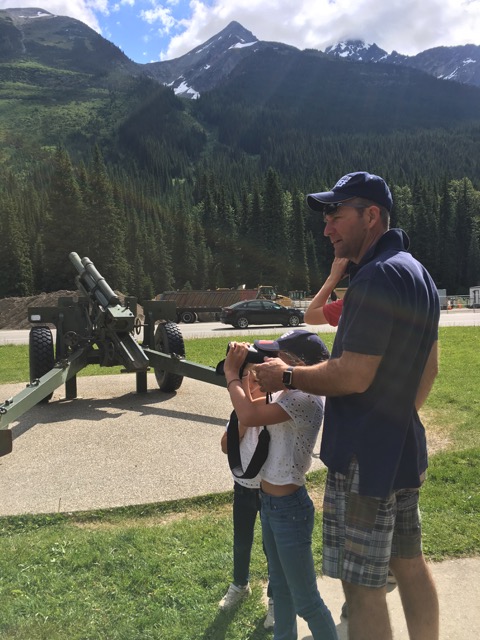 The spiral tunnel was fascinating . Summer was certainly upon us and we noted that the snow capped mountains were becoming 'less snow capped'.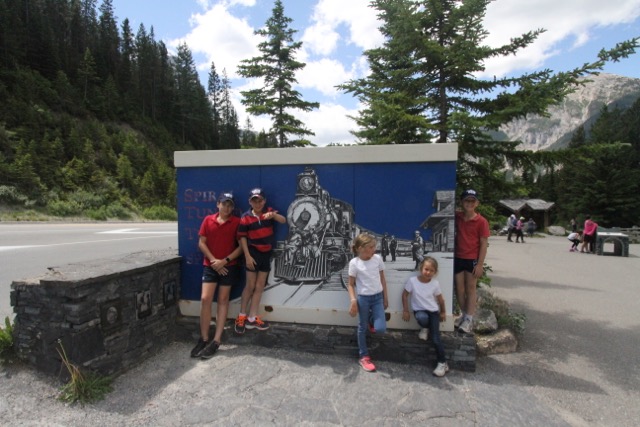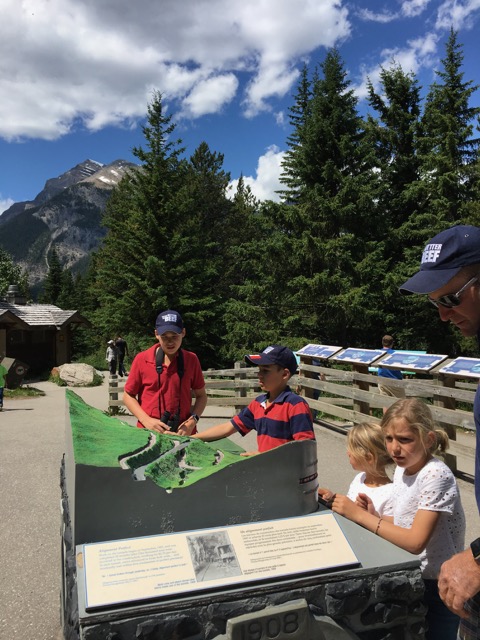 The fact our fuel light had come on in the car and it was long time since dinner last night didn't dampen our spirits although the cherries had certainly run out!
Golden came into view around 1pm and after refuelling at the first opportunity we ducked into an iconic Canadian fast food outlet, Tim Hortons. I did giggle as Hamish gobbled up his chicken burger with a side of donuts while sporting his "You're Better on Beef" cap!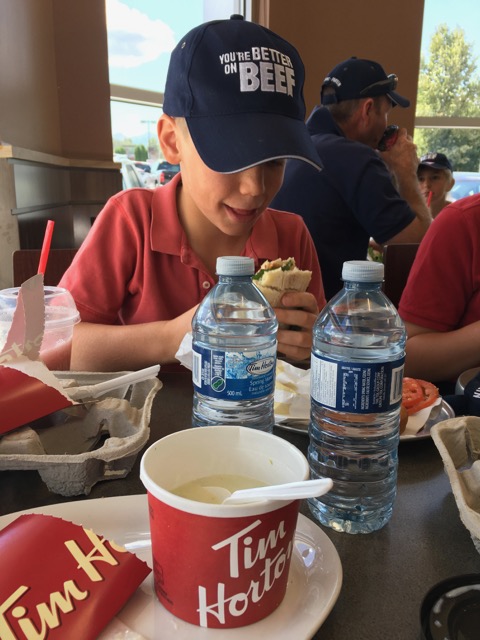 With everyone refuelled we were now ready to head toward Jasper.
Just as everyone had told us, with every turn the scenery just got more amazing!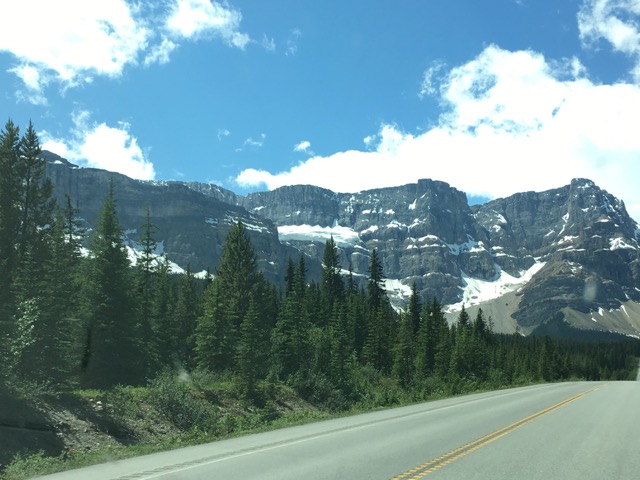 To be continued ……
Other stories